NI woman still missing after New Zealand earthquake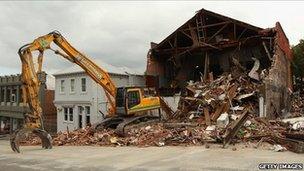 A woman from Lisburn is among those still missing after the earthquake in Christchurch in New Zealand.
Julie Wong, formerly Johnston, is originally from Lisburn, and in her mid 30s.
She emigrated to New Zealand with her husband five years ago. The couple have a four-year-old son.
Mrs Wong worked in the financial services industry and is believed to have been in the Pyne Gould Guinness building at the time of the earthquake.
Rescue teams continue to search for survivors but aftershocks have hampered their efforts and a forecast windstorm could add to the hazards they face.
No survivors have been rescued since mid-afternoon on Wednesday.
So far, 148 people are known to have died but many more are still missing.
Officials believe up to 22 bodies may lie beneath the rubble of Christchurch Cathedral; as many as 120 are thought to have been killed inside the collapsed CTV office block, including Japanese, Chinese and Philippine nationals.
Many others are presumed dead inside the destroyed Pyne Gould Guinness building.
The funerals have begun of those who died.
The first service was for the youngest victim so far - Baxtor Gowland was born just after last September's quake.
People are still trying to leave the city following the magnitude 6.3 earthquake that wrecked the centre of Christchurch six days ago.