Double murder accused Stewart 'regarded as weak'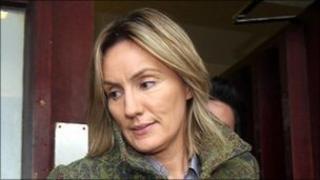 Prosecution and defence lawyers have been giving closing arguments in the trial of Hazel Stewart in Coleraine.
Mrs Stewart, 47, denies murdering her policeman husband, Trevor Buchanan, and the wife of her ex-lover, Colin Howell, in May 1991.
Her lawyer said she could not have been in a joint enterprise with Howell who regarded her as weak, vulnerable and easy to control.
Howell is serving a 21-year sentence after he admitted his guilt last year.
The lawyer said financial issues had motivated Colin Howell to murder his wife Lesley and Ms Stewart's husband Trevor Buchanan in May 1991.
Earlier in the day a prosecution lawyer claimed Ms Stewart had agreed to a plan to carry out the two murders so she and Howell could continue their relationship.
The lawyer said she helped execute a plan to sacrifice the life of her husband and kill her then lover's wife with carbon monoxide fumes.
The mother-of-two did not give evidence in her defence in the trial, now in its 13th day.
The prosecution lawyer said she had failed to answer questions and challenge the evidence, although he conceded she had no obligation to do so.
But the questions, he said, were "crying out for an explanation".
"The reason why she did not place herself in the position where she could be asked those questions is because she does not have the answers to suit her," he said.
Mrs Stewart, from Ballystrone Road, Macosquin, Coleraine, who has denied the two murders, sat impassively in the dock as Mr Murphy in a closing submission urged the jury to find her guilty.
Her husband, Pc Trevor Buchanan, 32, and Lesley Howell, 31, the wife of her lover, dentist Colin Howell, were found dead in a car filled with carbon monoxide fumes in a garage behind a row of houses known as the Twelve Apostles in the seaside town of Castlerock, Co Derry, in May 1991.
At first, police thought they had died in a suicide pact because of the distress over their spouses' affair.
It was only when Howell, 51, first confessed to his church elders and then to police in January 2009 that he had murdered them that Stewart was arrested by investigating detectives.
Howell first gassed his wife as she slept on the sofa of their home in Coleraine.
He then drove her body to the far side of the town, where he murdered PC Buchanan by the same method before taking the two bodies away to stage-manage the suicide.