Loyalist guilty of Fusco cafe murder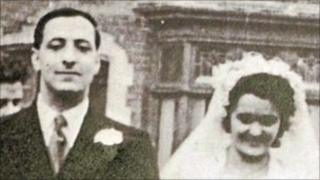 A loyalist has been jailed for life after being convicted of a sectarian murder in Belfast almost 40 years ago.
Robert James Clarke, 58, denied shooting 53-year-old Alfredo Fusco in his York Road cafe on 3 February 1973.
He was convicted of murder and of possessing the two guns used in the attack, a Sterling sub-machine gun and a Webley revolver.
Under the terms of the Good Friday Agreement, Clarke is likely to be released after two years in custody.
At the end of the two-hour, 37-page judgement, Belfast Crown Court Judge Mr Justice McLaughlin said there "was no innocent explanation" for the fact that fingerprints belonging to Clarke were found on the door which Alfredo Fusco was sheltering behind when he was killed.
"Standing back from all the evidence I am left satisfied beyond a reasonable doubt that the defendant left his prints on the store door on the evening of 3 February 1973 whilst acting as the gunman who killed Mr Fusco," the judge said.
He added that given the evidence of Mr Fusco struggling to keep the store door closed as the gunman tried to force his way in, "the close proximity from which the rounds were fired" and the fact the gunman swapped weapons with his accomplice after the machine gun jammed, "lead me inevitably to the conclusion that the gunman could have had no other intention but to kill his victim".
Remanding Clarke into custody, Mr Justice McLaughlin said he would sentence him on 1 April but told lawyers for the defence and prosecution he would like information as to whether or not he should fix a minimum tariff given that, under the terms of the Good Friday Agreement, Clarke was likely to be released after two years in custody.
In a statement from the Historical Enquiries Team after the trial, lead senior investigator Chris Symonds said the murder had been "sectarian" and had robbed Mr Fusco's family "of his love".
He said the emergence of new fingerprint technology allowed them to re-open the case and identify Clarke as the gunman who left his prints on the store door.
"Mr Fusco's family have waited many years for this new technology to allow them to see justice for their loved one today and we would hope that today's events would offer some small comfort to them," said Mr Symonds.