Lesley Howell's brother's anger over sister's death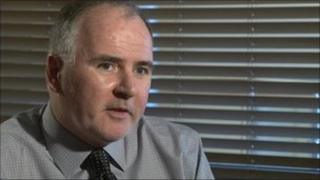 The brother of Lesley Howell has spoken of the moment when convicted double killer Colin Howell told him of his sister's death.
Howell was sentenced to 21 years for murdering his wife Lesley and his former lover's husband, Trevor Buchanan, in Castlerock, County Londonderry, in 1991.
Their bodies were found in a car full of exhaust fumes. It was initially thought that they had died in a suicide pact.
Chris Clarke told the BBC that when the former dentist told him of Lesley's death he was "contained and professional" with "an element of matter-of-factness about him".
"Within what I perceived to be his personality, he was appropriate," he said.
"When Colin rang me, it was 'I am sorry I have to tell you...', it was very professional, very contained, very controlled, not greatly emotional."
Mr Clarke said he had wrongly thought that Lesley "had come to a decision to kill herself" until the revelations of her murder emerged.
'Injustice'
He described how on one occasion he had thought it strange that Lesley "suddenly became incapable" after taking "two or three glasses of red wine".
"I either commented to Colin or he volunteered that he had given her some sleeping tablets as well as the wine," he added.
"Although I can't possibly know this, I think there was a pattern here of Colin medicating her.
"As a dentist in the 1990s, he had quite a lot of access to sedative drugs.
"My feeling is that he habitually medicated her and in the end he may have got her into a situation where she became partially dependent on tranquilisers."
He said that following Lesley's death his relationship with Colin Howell was "initially civil", but that it was soon "very distant and reached a point that really from the mid-1990s onwards there was absolutely no contact between the two families".
Mr Clarke was speaking to the BBC, prior to the conclusion of the trial of Howell's former lover Hazel Stewart.
He said there was an "element of deep, abiding anger" that a false picture had been painted of his sister in the past.
"She was very pretty, I don't know if that quite always comes over, but it was also her personality she drew people in," he added.
"She drew the light in from the room and people wanted to be near her, people wanted to be around her.
"There is 20 years of misinformation to overcome, and I am not actually confident the true nature of Lesley will come out in all this and I think that is a terrible injustice."