Mark Harbinson guilty of sexually abusing school girl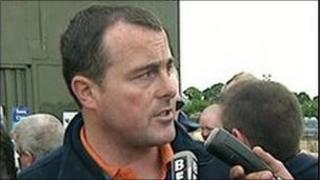 Prominent loyalist Mark Harbinson has been convicted of sexually abusing a 13-year-old school girl in his Orange Hall.
The jury on Monday failed to reach a verdict on five other charges. He will be sentenced in April.
On Friday he was convicted on another charge of having topless pictures of the girl.
He was acquitted of indecently assaulting a 12-year-old schoolboy.
The jury at Craigavon Crown Court, failed to reach verdicts on five other charges, including indecent assault of another 14-year-old girl.
Harbinson from Sheepwalk Road, Stoneyford, County Antrim, will learn next month if he will face a re-trial on those charges.
Harbinson was originally caught by police with the schoolgirl in his car on 26 October 2009, three days after topless photos of the girl were found on his mobile phone.
The court had heard that during their affair, which began in March that year, Harbinson initially begged for kisses and even told her he "could not wait until she was 16".
It was revealed in court that Harbinson had three times more contact with the school girl than his own wife, sharing over 1,750 text messages.
He also bombarded the school girl with texts during the week-end of the birth of his son.
The jury, by a majority of 10 to two accepted that in August 2009, Harbinson, had taken the schoolgirl to his Orange Hall in Stoneyford where the sexual abuse took place.
During his five-week trial Harbinson's answer to all of the claims was that he "didn't do any of this, not a word of it, not a word".