Pair accused over Newcastle murder appear in court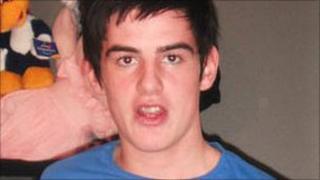 Two people have appeared in court in Downpatrick in connection with the murder of 18-year-old Paul Owens.
Mr Owens was assaulted on the Bryansford Road at about 0100 GMT on Saturday. He died later in hospital.
David Kennaway, 26, from Kenard Villas, Newry, and Lyndsey Cahoon, 20, of Central Promenade, Newcastle, appeared in court over the murder.
Mr Kennaway was charged with murder, assaulting a police officer and resisting arrest.
He spoke only to confirm he understood the charges.
Ms Cahoon was charged with providing a false description of an alleged offender and asking the co-accused to give false information to the police.
David Kennaway was remanded in custody.
During a bail application for Ms Cahoon, a detective told the court there was evidence that she had already attempted to destroy the murder weapon.
He said knives had been seized, but there was as yet no scientific link connecting them to the victim.
The district judge refused bail on the grounds that the murder weapon had still not been found and because of the risk of interference with witnesses.