NIPSA to hold protest at Stormont over NI Assembly cuts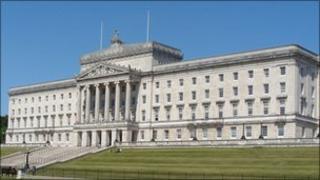 Members of NIPSA, Northern Ireland's largest public service trade union, are to hold a protest at Stormont on Tuesday.
It said the protest was being held over the proposal to cut the Assembly Commission's overall budget by "17% over the four-year budget period".
NIPSA said "several hundred members" were due to take part in the protest at Parliament Buildings.
The union said the proposed cut in budget "equates to 88 job losses".
NIPSA official Noel Griffin said: "These are real jobs with no rationale whatsoever to cutting the significant number of existing posts.
"It is an arbitrary cut which will have an adverse impact on the service provided to MLAs by the Assembly Secretariat.
"These cuts will affect a wide range of services from security to research, Hansard to IT including support to the many committees."
Job losses
Earlier this year, a senior Stormont official told MLAs the draft budget for running the Assembly was unacceptable to the Assembly Commission.
The Assembly's Director General, Trevor Reaney, was briefing the finance committee on the implications of the draft budget.
He said the extent of the proposed savings would have very significant effects on services provided and could include job losses of up to a quarter within the department over the four-year period.
NIPSA said they had also asked the Assembly's Public Accounts Committee to investigate the purchase and "eventual sale" of Ormiston House in Belfast.
Ormiston House, a listed 19th century building in east Belfast, cost the Assembly £9m in 2001.
It went on the market in January with an asking price of just £2.5m.
Ormiston House was purchased with the aim of providing offices to ease space pressure in the nearby Parliament Buildings.
However, the Assembly came up against planning hurdles for the site, and was unable to secure approvals for proposed office use and apartment developments.