Coalition talks between Fine Gael and Labour resume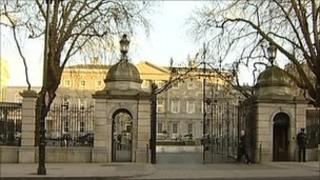 Talks between the potential coalition partners, Fine Gael and Labour are under way in Dublin.
Leaders, Enda Kenny, and Eamon Gilmore, held over an hour of face-to-face discussions on Monday and selected their negotiating teams.
Mr Kenny and Mr Gilmore met on Tuesday morning ahead of the talks.
It is understood the talks between Fine Gael and Labour are taking place in Government Buildings.
Fine Gael is represented in the negotiations by TDs Phil Hogan, Michael Noonan and Alan Shatter.
Labour's team is comprised of Joan Burton, Pat Rabbitte and Brendan Howlin, along with economic adviser Colm O'Riordan.
Outgoing Taoiseach Brian Cowen has offered the parties facilities to help in the talks.
Fine Gael and Labour agree on a lot of issues but there are several which could be difficult to reach a compromise on.
Labour wants to tax those who earn over 100,000 euro per year while Fine Gael is opposed to tax increases.
Fine Gael wants to impose a college graduation tax which students will pay on entering the workplace, Labour wants to abolish third level fees.
Weekend deadline
Labour is opposed to cuts in child benefit while Fine Gael want to reduce the spend in this area by 250m euro.
The talks face a weekend deadline, when Labour is due to hold a special conference.
A meeting of the new Labour Parliamentary Party is also scheduled to take place this afternoon.
Sinn Fein has more than tripled the number of seats it has in the Irish parliament (Dail).
Brian Stanley won a seat in Laois-Offaly, to bring the parties total number of TDs elected to 14.
Counting has finished in all but one of the constituencies.
A full recount will begin in the Galway West constituency on Tuesday afternoon.
This follows a request from Independent candidate Catherine Connolly after the 13th count finished.
At the end of the count, she trailed Fine Gael's Sean Kyne by 17 votes in the race for the final seat.
The move means that while five candidates have been deemed to be elected in Galway West, technically none of the seats have been filled, as the returning officer has not declared any candidate to be elected.