Jane Russell's Derry links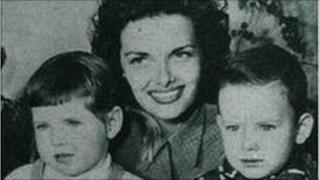 It has emerged that Hollywood actress Jane Russell, who died on Tuesday aged 89, had adopted a child from Northern Ireland.
She was one of the most popular Hollywood sex symbols of the 1940s and 50s and spent her life campaigning on behalf of families trying to adopt.
According to Londonderry historian Willie Deery, Ms Russell, chose a child from the city to raise as her own.
It was a move which almost ended her career.
In his book, "Springtown Camp: From the Inside", Mr Deery explained the Hollywood star's local link.
"Jane Russell didn't visit the camp but she adopted a boy whose mother lived in Springtown Camp," he said.
Springtown Camp, now known as Springtown Industrial Estate, was formally an American navy base during the Second World War.
It was a collection of tin and wooden huts, which, after the Americans left, was squatted into by a number of families who at that time had been living with their parents in extremely cramped conditions.
"Hannah McDermott, who lived there, went to London in 1951 and allowed the star to adopt her baby and it made news across the world," Mr Deery explained.
"It landed her in court where she was charged with breaking an adoption law and it almost destroyed Russell's career as well.
"Hughes wanted her to give the baby back but she refused. I've researched this and spoken to Jane's son about it. Thomas is living in Arizona and his uncles are still living here in Derry."
The film actress, who was discovered aged 19 by the the director and producer Howard Hughes, left her life as a doctor's receptionist and part time photographic model, to star alongside Marilyn Monroe, Bob Hope and Frank Sinatra.
Jane Russell married three times and adopted three children.