The secret life of Colin Howell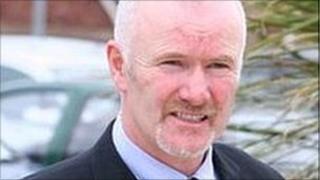 There were two sides to Colin Howell.
One was decent, friendly and popular. An upstanding and worthy member of society, as his barrister described him.
That was the person people in Coleraine knew for 20 years. A committed Christian, successful dentist and family man.
But there was another, darker side and a secret life of lies and adultery and ultimately murder.
A monster and psychopath as he was described in court who planned the killings of his wife Lesley and the husband of his lover Hazel Stewart.
A man who believed he was too clever to be caught and got away with his crime for 18 years until the day he walked into a police station and confessed.
Colin Howell was born in Portadown in 1959. He qualified as a dentist at Queens University and met his wife-to-be Lesley when she was studying to be a nurse in Belfast.
Lesley was originally from Plymouth and had one brother, Chris Clarke, an anaesthetist in Blackpool.
Gassed
The couple married on 16 July 1983 and moved to Coleraine where they lived in Knocklayde Park.
To an outsider it looked like a successful marriage. They had four children and Howell's business appeared to be going well.
So the events of 19 May 1991 looked like an awful tragedy.
The bodies of Lesley Howell and Trevor Buchanan were found in a car in a garage at the back of a terrace of cottages in Castlerock.
Lesley was 31. Trevor Buchanan was 32.
The subsequent inquest found that according to medical evidence both died from carbon monoxide poisoning.
The coroner said Lesley was depressed on discovering her husband was having an affair and the depression worsened after the death of her father on 7 May - 12 days before she died.
We now know that what looked like a tragic double suicide was in fact murder.
Howell gassed his wife as she slept on the sofa at their home in Knocklayde Park. He put her body in their car and drove to his lover Hazel Stewart's home.
She opened the garage door and made sure her husband was sleeping in the bedroom. Howell then gassed Trevor Buchanan.
Howell believed he would never be caught. His arrogance was apparent in an interview at Coleraine police station on 30 January 2009.
He told detectives: "I know I lived in a world of believing I could do anything, like a fantasy world where I could do anything and so I probably believed I could do it and get away with it."
Those words struck a chord with journalist Deric Henderson, who has followed the case closely and is writing a book about the murders.
"Colin Howell was in love with himself in many ways. He was narcissistic," he said.
"Colin Howell lived in a world that was not familiar to you or me or anybody else. He was a fantasist in many ways."
So what made him confess?
There appear to have been two key factors. The first was the death of his eldest child, Matthew.
The 22-year-old died after falling from a balcony in Moscow while he was an exchange student.
Matthew was five-years-old when his father killed Lesley. It emerged in court that his mother called out Matthew's name as she gasped for breath as Howell held a hosepipe to her face to poison her with carbon monoxide.
During his police interviews Howell said he saw this in a biblical context, that the sins of the father had been visited on the son and in his mind Matthew's death was God's way of punishing him.
Monster
The other factor was an investment of several hundred thousand pounds in a company in the Philippines that claimed it knew the location of millions of pounds worth of gold buried by the Japanese towards the end of the second world war.
We are told that when Colin Howell travelled to the Philippines and was told he had lost everything, he realised the whole venture had been a fraud.
Again, he saw the loss of his investment as pay-back for what he had done years earlier when he murdered his wife and Trevor Buchanan.
He also admitted to police that he was a control freak who expected to get his way on all occasions, and expected the women in his life to do as he said.
He was questioned about the controlling, manipulative side of his character at Coleraine police station on the 30 January 2009.
When a detective asked him about the consequences of losing control in a relationship he replied: "The relationship ended ".
The extent of his influence and control was demonstrated by the fact that he persuaded his first wife Lesley Howell to have three abortions before they were married, and Hazel Stewart to have one during their affair.
Even after he confessed to the double killings, Colin Howell continued to attempt to control his relationships from inside his prison cell.
In a letter to his second wife Kyle, written on the 30 June 2009, he told her:
"You must either write to me to clean the slate or now acknowledge I have done everything possible to be truthful and honest and now set yourself free to forgive."
During his cross-examination the defence put it to Howell that he was a monster. He replied: "Yes, I was a monster and I was a killer, but not any longer. "