Derry chemist thieves foiled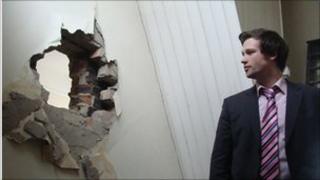 Would-be thieves have cut through three walls in an attempt to break into a pharmacy in Londonderry.
The damage was discovered after the alarm was activated at Sweeny's chemist shop on the Strand Road at about 2100 GMT on Sunday.
Pharmacist, Killian Johnston, said he believes those behind the attempted break-in were "looking for drugs."
"There is a person-sized hole in wall where they have cut through three layers of brick," he said.
"They came through the neighbouring flat and seem to have put a lot of time into planning this."
Mr Johnston said it was "incredible" that anyone would go to an effort to break into a small shop.
"I can't understand it," he said.
"I can only imagine that they were looking for drugs. The street value of the drugs would have far outweighed any money that we would have had on the premises."
Mr Johnston appealed for anyone with information to contact the police.