Belfast's starlings stars of the air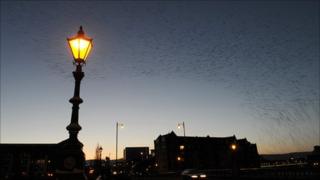 Up to 30,000 of these aerial acrobats put on a remarkable show in Belfast every day.
The performance begins around dusk as the starlings gather from all parts of the city and form into a single massive flock wheeling and reeling in unison as they prepare for nightfall.
In close formation, they then fly under the Albert and Queen's Bridges where they roost for the night.