100 new jobs for electronic firm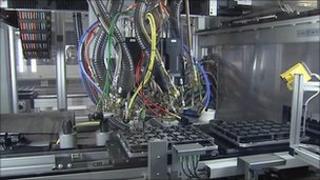 More than 100 new jobs are being created at a company in Country Antrim.
The jobs will bring employment at Schrader Electronics to almost 1,000. Schrader has factories in Antrim and Carrickfergus.
The company makes devices which can read the tyre pressure of cars and lorries.
A new investment of £29m will result in further expansions at the two local manufacturing bases. In total, 130 new jobs are being created.
Some of the new workers have already been recruited.
The company said the new jobs were high quality and would help Schrader to target European and Asian markets.
This will involve research projects looking at new products.