Man jailed for 18 months for beating fiancée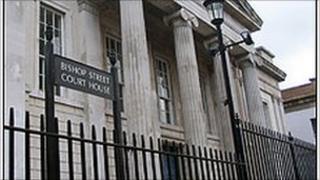 A 43-year-old man has been jailed for 12 months for beating up and threatening to kill his fiancee on the day they became engaged.
Kenneth Hazlett, of no fixed abode, pleaded guilty to the offence at Londonderry Magistrates Court on Tuesday.
It happened at his now former fiancee's home at Whispering Pines in Limavady on Monday.
Hazlett was also banned from contacting his former fiancee for 10 years.
He was also barred from entering within the 30mph zone around Limavady, also for 10 years.
Hazlett, who has 109 previous convictions, was only released from jail last month after serving a sentence for assaulting the same woman.
He was given a suspended sentence as well a seven year restraining order banning him from going near his then girlfriend's father's home.