IRA victims bid for compensation from Gaddafi on hold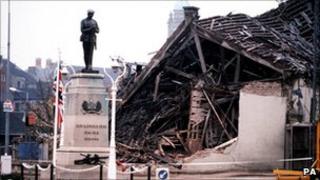 Attempts to secure a compensation package from Libyan leader Muammar Gaddafi for victims of IRA violence have been suspended.
NI politicians began talks with Tripoli in 2009 to secure compensation for 160 victims of the Provisional IRA. Libya supplied arms to the IRA during its terror campaign.
The DUP's Jeffrey Donaldson said lawyers for the group have had a number of meetings with Libyan authorities and were preparing for a fresh meeting with Gaddafi's son Saif Al-Islam last month.
The arrest of a Libyan human rights campaigner on 15 February sparked off the current rebellion against Gaddafi's 41-year rule.
"Everything is on hold. Our legal team have indicated the discussions with the Gaddafi regime are not continuing and will not resume until there is another government in place," he told the Reuters news agency.
Mr Donaldson also said that lawyers were looking at the possibility of securing Gaddafi assets frozen by the British government last week in case the compensation bid failed.
"That would be another option if discussions with a new government in Tripoli proved difficult," he said.
"It would have to be through a civil action against Gaddafi in the British courts - I doubt he would turn up to defend it."
The victims group -- which acted after Libyan authorities paid $1.5bn (£918.7m) to a US compensation fund for victims of the 1988 Lockerbie mid-air plane bombing -- have not put a figure on the amount of compensation they are seeking.
'Essential partner'
The UN Security Council voted to completely lift sanctions against Libya in 2003, but at the time the DUP's Ian Paisley Jr argued against this because of the lack of compensation for IRA victims.
As part of the negotiations to lift sanctions, Libyan officials provided information about millions of pounds and 120 tonnes of weaponry which they had given the IRA.
However, the UK government has never secured a compensation deal from Libya for victims of IRA attacks.
During a meeting with Gaddafi in 2009, then Prime Minister Gordon Brown declined to put any formal pressure on Libya for compensation.
Mr Brown told a victims' lawyer at the time that it was not "appropriate" to discuss the claims.
In a letter to lawyer Jason McCue in September 2008, Mr Brown told him that Libya was now an "essential partner" in the fight against terrorism and it was in the UK's interest for that co-operation to continue.
Mr McCue has been lobbying the UK to raise the matter of compensation at the highest levels of the Libyan government.
An Assembly motion in 2009 which called for compensation from Libya for IRA victims was backed by all parties, except Sinn Fein.
Sinn Fein President Gerry Adams said at the time that he supported the right to seek compensation, but said the motion was "unfair and partisan".