Belfast to Dublin train line maintenance work shelved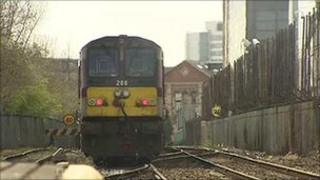 Plans for priority maintenance work on a section of the Belfast to Dublin railway line has been shelved under the draft budget.
As a result, trains may have to observe a speed restriction on part of the line for years to come.
An 11 mile section of track between Lisburn and Lurgan requires £40m worth of repairs.
But the proposed upgrade is not included in the Department for Regional Development's draft budget.
For safety reasons a speed limit of 60mph has been placed on part of the section that needs repaired.
Without the required investment, journey times on the flagship Belfast to Dublin Enterprise service could be affected for up to four years.
Regional Development Minister, Conor Murphy, said budget constraints led him to improve the Londonderry to Coleraine line rather than the Enterprise service.
"I was faced with a choice between upgrading the Knockmore stretch which would shave off two or three minutes of the journey time between Belfast and Dublin or doing the Derry to Coleraine track which if it is not in this budget period could lead to the closure of the Derry to Coleraine track," he said.
Mr Murphy said it was his intention to identify funds for the section of track between Lisburn and Lurgan through the budget review group.
Professor Austin Smyth, who is Head of the Department of Transport Studies at the University of Westminster, said he felt there were now "major issues" about the line's "future viability".
The track engineering work on the Belfast to Dublin railway line was originally supposed to be completed between 2010 and 2011.
There are currently other speed restrictions of 20mph on a section of track at Lisburn and a 50mph speed limit on a section at Lurgan.
Plans to upgrade the Derry to Coleraine line have also been delayed, but work is expected to begin in 2014.