Judgement reserved in trial over murder of Captain Robert Nairac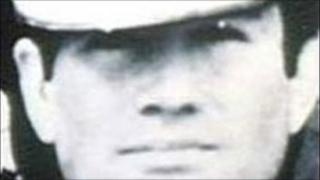 Judgement has been reserved in the trial of County Armagh man Kevin Crilly for the murder of undercover soldier Captain Robert Nairac 33 years ago.
Trial judge Mr Justice McLaughlin said he had been given "plenty of food for thought" and that obviously he would need some time to consider all of the evidence and submissions in the case.
Mr Crilly, 60, from Lowerfoughill Road, Jonesborough, denies the murder of Captain Nairac between 13 and 16 May 1977.
Following the murder, he allegedly went on the run in the US for 27 years using his birth name of Declan Power.
Captain Nairac was abducted from a bar at Drumintee in south Armagh in May 1977 before being killed.
The prosecution claims that following the abduction of Captain Nairac from the Three Steps Inn, Mr Crilly, then aged 26, picked up the gunman, Liam Townson, later convicted by the Special Criminal Court in Dublin.
Final submissions
He allegedly drove the soldier to the humpback bridge in the townland of Flurry Bridge in Ravensdale Forest, County Louth, where, according to Townson's confession, he was shot.
In final submissions on Tuesday, the prosecution accepted that the case against Mr Crilly was circumstantial, while the defence argued that given the state of the evidence, the Armagh man had no case to answer.
Prosecution lawyer Tessa Kitson said the case involved circumstantial evidence, but one in which he confessed his involvement to BBC journalists on camera, an involvement he regretted.
Defence QC Richard Pratt said much of the so-called forensic evidence could not be tested in any reasonable way and that the prosecution had moved the doorstep BBC interview centre stage in the light of many of the legal rulings made by the court.