Food hygiene fines for Belfast supermarket owner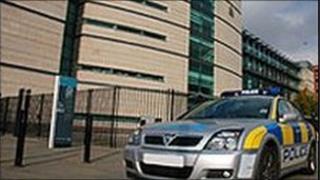 A Belfast supermarket owner has been fined £2,600 for food hygiene offences.
Abdulai Shapo, formerly the owner of Africa Supermarket and the current owner of Yambo's Food, both on the Ormeau Road, appeared in Belfast Magistrates' Court in relation to 10 separate offences.
Belfast City Council brought the prosecution after serious breaches of food hygiene legislation.
These were identified between 15 December 2009 and 13 October 2010.
Mr Shapo had failed to put in place and document a food safety management system and was selling food which had been put under detention by environmental health officers for further investigation.
He was found to be selling rancid turkey gizzards and cow skin.
On another occasion, mutton, hens' eggs and turkey wings, were sold which did not meet the quality demanded by the purchaser.
The shop-owner was also unable to provide documentation regarding a goat carcass which he claimed a farmer had killed in a field and sold to him.
'Extreme nature'
The carcass was found to be unfit for human consumption and was seized by council officers and later condemned by a judge.
Mr Shapo failed to clean and disinfect equipment in Africa Supermarket which came into contact with food.
On two occasions Mr Shapo failed to comply with hygiene improvement notices that had been served on him.
Belfast City Council advised the court that, although conditions in the shops had improved, further work was still required.
A council spokesperson said that due to the "extreme nature" of the breaches, the council considered a prohibition order which would have allowed the business to be closed down.
"However, council officers are now working with Mr Shapo to improve food safety standards at his premises and we are not seeking any such order at this time," the spokesperson said.