Work begins on new rural primary school in Fermanagh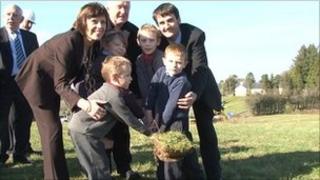 Building work has begun on a new rural primary school in County Fermanagh.
It follows a decision to amalgamate Corranny Primary School and Cornagague Primary School, both near Roslea.
The £1.5m building in Aghadrumsee is designed to accommodate 120 pupils.
Pupils and staff cut the first sod to signal the start of construction work. The principals of the two schools, Eamon Mulligan and Deirdre Boyle, said they were nearing the end of a long wait.
The new co-educational maintained primary school is being built on a greenfield site.
Speaking on behalf of both schools, senior trustee, Father Larry Duffy, said it was an important day and such a school was "absolutely vital" to the rural community.
"This new construction project represents a significant investment, not only for our pupils, but for the entire community," he said.
"We are already looking forward to a new chapter for the pupils and staff of Corranny and Cornagague when we can open the doors of our new school."