Lord Empey to stand down from Northern Ireland Assembly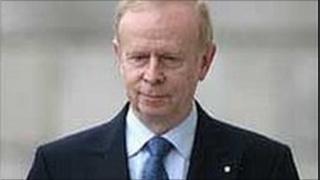 Lord Empey is to stand down from the Northern Ireland Assembly later this month and will not contest this May's elections.
The Ulster Unionist Party said the decision followed its former leader's elevation to the House of Lords.
It said it was "consistent with his spearheading of the policy of an end to double-jobbing".
Lord Empey resigned as UUP leader last year after five years in the role.
The current UUP leader, Tom Elliott, paid tribute to Lord Empey and said: "Few have given so much, over such an extended period".
"He gave great service to the people of Pottinger on Belfast City Council for 25 years," he said.
"He represented the people of East Belfast in the Stormont Assembly for 13 years and indeed I very much doubt there would have been a devolved Assembly without the tremendous contribution made by Sir Reg.
"I know that he will be an effective advocate for all the people of Northern Ireland in the Chamber of the House of Lords.
"As party leader, I am now actively addressing the issue of what happens next with regard to the selection of Ulster Unionist candidates in East Belfast, and will be consulting with the East Belfast Association in the very near future."