Jury finds Hazel Stewart guilty of double murder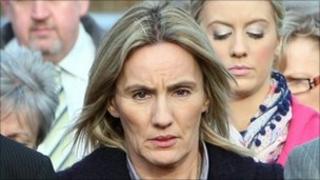 A jury has found Hazel Stewart guilty of the double murder of her husband and her former lover's wife.
Stewart, 48, from Coleraine, is to serve a life sentence for the murders of Trevor Buchanan and Lesley Howell in May 1991.
Her ex-lover, former dentist Colin Howell, is serving 21 years after he pleaded guilty to the killings.
The jury at Coleraine Crown Court took two and a half hours to find Stewart guilty after a 15-day trial.
She will return to court next Friday when she will learn the minimum jail term she must serve.
After the jury foreman delivered the verdict Lisa, Stewart's daughter wept uncontrollably, and said "It's not fair."
The bodies of Lesley Howell and Trevor Buchanan were discovered in a fume-filled car outside a house in Castlerock in May 1991.
At the time their deaths were seen as a double suicide prompted by the revelation that their spouses were having an affair.
Regret
The investigation was reopened when Colin Howell confessed to the murders in January 2009.
He was sentenced in November 2010 then gave evidence for the prosecution during Hazel Stewart's trial.
During the trial the court heard that Stewart played a part in the planning of the killings.
She also disposed of evidence including the hose pipe used to gas their spouses.
Stewart claimed she was "soft, weak vulnerable, and easy prey" painting her former lover as "obsessed, calculating, controlling and very manipulative".
She said the reason she didn't help her husband was because she was terrified Howell would kill her and her children.
In a statement outside the courtroom, Lesley Howell's family said they "were comforted that those involved in the murders of Lesley and Trevor have finally been brought to justice".
'Loving and devoted'
Lesley Howell's daughter Lauren said: "We rejoice in the contribution our mum made to our lives in the short time we had together.
"We know her to have been a loving, devoted mother, and we bitterly regret the horrible way in which she was taken from us."
Trevor Buchanan's brother Gordon said it was "a day of very mixed emotions for the Buchanan family".
"Our thoughts are first and foremost with Trevor who was brutally taken from us in 1991," he said.
"While there's immense satisfaction that justice for Trevor has finally been achieved, there's no sense of victory - no cause for celebration - as nothing can bring Trevor and Lesley back to us."
Detective Superintendent Raymond Murray, who led the investigation, said anyone who had been in the court would have become aware of the "sheer emotional wreckage this has left behind".
He said he had "never felt such tension and such emotion in a court with the deliverance of the verdict".
The detective added that the fact that Colin Howell had confessed to the murders and testified at the trial "does not expunge his guilt of taking two human lives".
Mr Murray said he understood the anger of the families of the victims about the original investigation.
However, he added: "I think we've got to remember 1991 was a very different place in Northern Ireland -there were 102 terrorist murders alone and CID were a lot more stretched than they are at the minute."