Counting ends in Irish election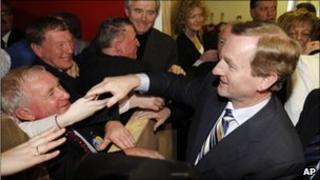 Counting of votes in the Republic of Ireland's general election has ended.
Fine Gael won 76 seats; the Labour Party, 37; Fianna Fail, 20; Independents, 15; Sinn Fein, 14, and Others, 4. The Green Party won no seats.
Talks between Fine Gael and the Labour Party on the formation of a coalition government will resume again on Wednesday.
Negotiating teams from the two parties met for around nine hours on Tuesday.
So far, the two sides have kept to an agreement not to reveal anything about the content of the discussions.
There is an expectation that a deal will be done in time for a Labour Party convention at the weekend, although both parties have pointed out that they have other options.
So far no approach appears to have been made by Fine Gael to any of the Independent TDs in the new Irish parliament (Dail).
Although Fine Gael won 76 seats, it was short of the 83 needed for a party to secure an outright majority.
Compromise
Mr Kenny, who is set become the next Irish prime minister, said he hoped a coalition could be agreed quickly.
Fine Gael and Labour agree on a lot of issues but there are several which could be difficult to reach a compromise on.
Labour wants to tax those who earn over 100,000 euros per year while Fine Gael is opposed to tax increases.
Fine Gael wants to impose a college graduation tax which students will pay on entering the workplace, Labour wants to abolish third level fees.
Labour is opposed to cuts in child benefit while Fine Gael want to reduce the spend in this area by 250m euros.
Bail-out
The leader of Fine Gael Enda Kenny will not take over running the Irish Republic until the new Irish parliament meets on 9 March.
However, he has already begun preparations by signalling to European leaders that he is hoping to reduce the interest rate that Ireland has to pay on its 85bn euro international bail-out following the Irish banking crisis.
Fine Gael's Sean Kyne has been elected as the final TD of the 31st Dail after a recount in Galway West.
The recount of votes concluded on Wednesday morning.
The recount was requested by Independent candidate, Catherine Connolly, after she finished 17 votes behind Mr Kyne in the race for the final seat.
The conclusion of the count also means the other successful candidates in Galway West will be formally declared elected.
The outgoing ruling Fianna Fail party suffered a crushing defeat in the election, with high profile casualties including deputy prime minister Mary Coughlan and tourism minister Mary Hanafin.
Thirty-four outgoing Fianna Fail TDs failed to be re-elected, while its coalition partner, the Greens, lost all six of its seats.