Jury in Hazel Stewart trial considering verdict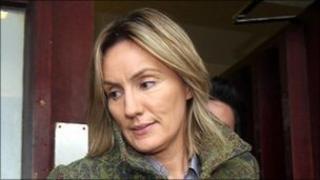 The jury in the Hazel Stewart double murder trial have been sent out to consider their verdict.
Judge Anthony Hart told them their first duty was to try to reach a verdict on which they all agreed.
But he added the law would, under certain circumstances, allow him to accept a majority verdict.
Hazel Stewart denies murdering her husband, Trevor Buchanan, and her ex-lover's wife, Leslie Howell, in May 1991.
The jury will consider each murder charge separately.
Hazel Stewart's ex-lover Colin Howell is already serving a prison sentence after pleading guilty to the murders.
Judge Hart began summing up the case on Tuesday. He told the jury the key question was: "Were they in it together?"
He told the jury they would have to decide whether the accused agreed a plan with her ex-lover Colin Howell to murder their respective spouses.
Distressing
Mr Hart acknowledged there had been a lot of public attention on the case and the jury had to put that aside and make their decision based on the evidence.
In his closing speech the defence lawyer, Paul Ramsey, said Mrs Stewart, 48, was not part of a joint enterprise with her ex-lover Colin Howell.
He told the jury the murders of Lesley Howell and Trevor Buchanan were carried out by a ruthless man who had reached the point of no return.
Mr Ramsey said his client could not have been in a joint enterprise with Howell who regarded her as weak, vulnerable and easy to control.
"This is a difficult, distressing and heart-rending case," he said.
"We have listened day after day to horrific, almost unbelievable evidence as to what happened on that night in 1991.
"It is a tragedy, but we must not compound that tragedy by a miscarriage of justice.
"I would ask you to consider the evidence in this case should give you cause to hesitate, to pause and to resist the headlong urge to convict that the Crown have urged upon you."
Howell, 51, is serving a 21-year sentence after he admitted his guilt last year.
Gassed
The mother-of-two did not give evidence in her defence in the trial, now in its 15th day.
Her husband, PC Trevor Buchanan, 32, and Lesley Howell, 31, the wife of her lover, dentist Colin Howell, were found dead in a car filled with carbon monoxide fumes in a garage behind a row of houses known as the Twelve Apostles in the seaside town of Castlerock, Co Derry, in May 1991.
At first, police thought they had died in a suicide pact because of the distress over their spouses' affair.
It was only when Howell first confessed to his church elders and then to police in January 2009 that he had murdered them that Stewart was arrested by investigating detectives.
Howell first gassed his wife as she slept on the sofa of their home in Coleraine.
He then drove her body to the far side of the town, where he murdered PC Buchanan by the same method before taking the two bodies away to stage-manage the suicide.