Police fire shot during attempted robbery in Belfast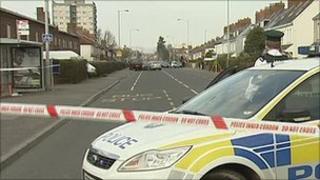 Police have fired a shot during an attempted robbery in the Cregagh area of east Belfast.
At 1020 GMT on Wednesday, a delivery van pulled up at a newsagents at Greenway.
Four men approached the van, and police, who were in the area, intervened. A shot was discharged by police and three men made off on foot.
No injuries have been reported. One man has been arrested and the Police Ombudsman has been informed.
Cregagh Road has been closed between Greenway and Montgomery Road following the attempted robbery of the delivery van.