Glenavy chicken waste legal challenge postponed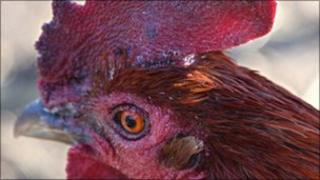 A legal challenge to a planned chicken waste incinerator in County Antrim has been put on hold.
It will now not go ahead until the environment minister makes his final determination on the scheme.
The group launched a challenge after Edwin Poots announced his intention to approve planning in August 2010.
Mr Poots is expected to decide whether to issue a notice of opinion on the proposed power plant at Glenavy or to call a public inquiry.
Judicial review proceedings by a group opposed to the facility have now been adjourned until his intentions are confirmed.
The Campaign Against Lough Neagh Incinerator (CALNI) launched its challenge after Mr Poots issued a draft indication of his intention to approve planning for an incinerator he has said will create up to 30 permanent jobs.
The multi-million pound plant would use chicken waste, including poultry bedding and meat and bone meal, to produce electricity.
But the plans by Rose Energy, a group backed by poultry producers, has met opposition from local residents who argued the facility would blight Glenavy's rural landscape and the natural beauty of the Lough Neagh area.
Objections
CALNI has also criticised the minister for not holding a proper and full public inquiry into the application.
Thousands of people have reportedly submitted objections to the project.
CALNI's legal team have argued that their rights to property, privacy and family life under the European Convention on Human Rights would be prejudiced if the planning application was not stopped.