Concerns on teaching job losses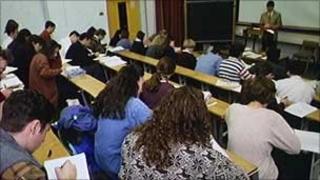 Teachers trained outside NI are returning to look for work here when hundreds of job losses are expected, a Belfast college principal has claimed.
Professor Peter Finn, of St Mary's University College, said many students unqualified for local college places, received training in England and Wales.
He has appealed to the government not to reduce the number of teachers St Mary's was allowed to train.
Professor Finn said that with such a shortage of jobs "action was needed".
Substitute teachers
Six hundred new teachers are due to graduate in Northern Ireland this summer.
Professor Finn told the Assembly's Employment and Learning Committee he was also concerned about the number of prematurely-retired teachers who were given work as substitute teachers.
He said it was demoralising for students at St Mary's College, but admitted it was a difficult problem to deal with legally.
He said there should be incentives offered to schools to employ newly-qualified teachers and disincentives to the employment of retired teachers.
Education Minister Caitriona Ruane has already proposed paying a lower flat rate to all substitute teachers, regardless of their years of experience.