Four hurt as car rolls down embankment in west Belfast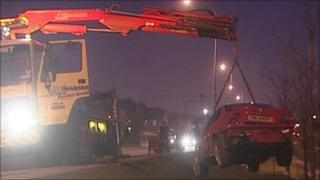 Four people have been taken to hospital after a car spun out of control and rolled down an embankment on the Glen Road in west Belfast.
The car, with two men inside, hit another car and a tree and destroyed a garden wall, before finally stopping close to the living room of a house.
Two of the injured were in a car parked at the side of the road.
One resident said people in the area had been campaigning for a road-side barrier for some time.
"This is about the fourth time (this has happened) and they've always ended up right there outside the door," Alice Green said.
"Anybody could have been killed."