Murder victims' families 'felt abandoned'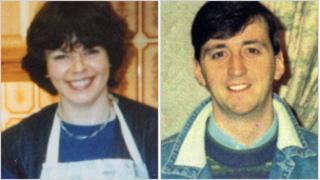 Relatives of murder victims Lesley Howell and Trevor Buchanan have told of the pain of believing for years that their loved ones had killed themselves.
On Wednesday, Hazel Stewart was convicted of the double murder of her husband and her former lover's wife.
Her ex-lover, former dentist Colin Howell, is serving 21 years after he pleaded guilty to the killings.
Daniel Howell, who was two when his mother was killed, said he had grown up believing she had abandoned him.
The bodies of Lesley Howell and Trevor Buchanan were discovered in a fume-filled car outside a house in Castlerock in May 1991.
At the time their deaths were seen as a double suicide prompted by the revelation that their spouses were having an affair.
The investigation was reopened when Colin Howell confessed to the murders in January 2009.
Daniel Howell, who no longer talks to his father, spoke publicly about his mother's death for the first time to the BBC's Spotlight programme.
"I was always kind of dealing with the fact that 'oh well she killed herself and it was on my second birthday so she didn't want to be around us'," he said.
"In our minds was put the idea that our mum had abandoned us and we had to deal with that."
"For me, the fact that it was my second birthday hurt me quite particularly."
Daniel's sister Lauren was four at the time of the murders.
"Such a significant part of my growing up was feeling that my mum had left me," she said.
"I couldn't understand, because I remembered her and I remembered that she loved us and it was so hard to accept.
"You can't put into words how it affected me. There were long periods of time where I didn't feel I could mention her and she just wasn't talked about.
"But I never forgot her. I never stopped thinking about her, she was always my mum. I thought about her every day."
Trevor Buchanan's father Jim died believing his son had taken his own life.
"I will never forget what it did to my parents, in particular my father," Trevor Buchanan's sister Valerie told Spotlight.
"We visited Trevor in the funeral parlour and dad just dived for the coffin.
"He picked him up and he said 'why did you do it son, why did you do it? Why didn't you come to me?'
"I'll never, ever forget those words."
'Safest place'
Trevor's brother Gordon said he had been "taken from this world in what should have been the safest place for any man, in his own home, in his own bed, in the middle of the night surrounded by those he loved most."
Hazel Stewart, who is 48, was given a life sentence for the murders. She will return to court next Friday when she will learn the minimum jail term she must serve.
The jury at Coleraine Crown Court took two-and-a-half hours to find the Coleraine woman guilty after a 15-day trial.