Real IRA admit Londonderry gun attack on PSNI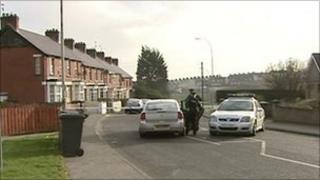 The Real IRA has said it was behind Wednesday night's gun attack on PSNI officers in the Glen Road area of Londonderry.
It also warned that more attacks will follow.
In a statement, the group denied police reports that civilians were in the immediate vicinity when the shots were fired.
The PSNI have said there is no doubt that the attack was an attempt to kill a police officer.
Several shots were fired as a patrol investigated an abandoned car in the Glen Road area on Wednesday.
District Commander Stephen Martin said the attackers fired while members of the community were talking to police.
"You have police officers there trying to assist the community, trying to recover stolen property and someone tries to kill them," he said.
"Not only did those behind the attack show absolute contempt for the police officers, but the officers were talking to members of the public when these shots were fired."
DC Martin said the shooting was "an act of madness".
At about 2130 GMT, police were investigating a report that a car had been abandoned off the Glen Road when the officers were shot at.
Local SDLP MLA, Pat Ramsey said police were "lured" into the area.
"It clearly was an ambush in a densely populated area, it's a very busy thoroughfare as well," he said.
"There is a sense of sheer anger in this city that how dare these people say they are carrying this out, supposedly on our behalf.
"There is sheer frustration when people are doing so much to try and improve the quality of life for citizens of this city and there are others trying to destroy it.
"They need to stop, because people are sick, sore and tired of it. We cannot allow this to continue in our city."
Mr Ramsey said he was concerned that dissident republicans appeared to be adopting new terror tactics.
"We've had bombs outside police stations, we've had other attacks involving pipe bombs. This one, ambushing police officers, lured and trapped, will be worrying for the police."
Meanwhile, army experts are examining a car which the police believe may have been abandoned by the gunmen.
The car was left near Saint Anne's Primary School in Upper Nassau Street.
Police have appealed for witnesses to the gun attack to contact them.