How two families were torn apart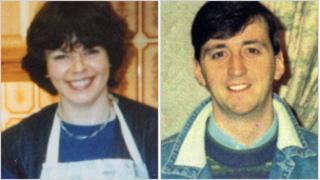 A day after Hazel Stewart is found guilty of the double murder of her husband, Trevor Buchanan, and her former lover, dentist Colin Howell's wife, Lesley, BBC NI Spotlight reporter Mandy McAuley talks about how the two families involved are coping.
After Wednesday's verdict, I think for both Lesley and Trevor's families, there is an overwhelming feeling of relief that they have finally got justice for their loved ones.
The truth has finally come out and the world now knows who Lesley and Trevor really were - decent people who were devoted to their families and especially to their children.
There must be a sense of relief, but no sense of victory following the verdict.
I spoke to Lesley's daughter Lauren for the Spotlight programme, and in the interview she talks about the empathy she feels for Hazel's two children, Andrew and Lisa.
Shock
Lauren told me that, day after day, she would look across the courtroom and see them and know exactly what they were going through. She had nothing but good feelings towards them.
In fact, Lauren and her brother Dan both talked to me about the time they spent with Hazel's children in the five years that Colin and Hazel's relationship continued after the deaths.
On a Friday night, the four eldest children would watch TV, play together, and eat sweets at Hazel's house, with Lauren remembering going on shopping trips with Hazel to Ballymena, not knowing that the woman she had such affection for had murdered the mother she adored.
Lauren and Dan also talked to me about how they have come to terms with the fact that their father murdered their mother; they have both coped in different ways.
Dan has chosen to cut off all contact with his father and will only refer to him as "Colin".
But Lauren still visits her father in prison, she said that while she is appalled at what he has done, she wouldn't deny the feelings she has for him as his daughter.
"I can't believe what he's done, and I'll never understand why, but I have seen him, and if I didn't believe his remorse was genuine, I wouldn't see him," Lauren said.
Respected
"At the end of the day he's my father and I love him.
"I can't help having those feelings for him, and I won't apologise for having those feelings for him, I love him very much.
"Although I'll never understand, he is the only one who can give me some of the answers I need," she added.
Clearly the pain is still very raw for the children that were left behind but their dignity and resilience is inspiring.
Perhaps one of the saddest things is that Trevor's father, who was so profoundly affected by his son's apparent suicide, forgave Hazel for having the affair just before his death.
The Spotlight programme looks at not only how the pair murdered their partners but destroyed their characters.
And for so long Lesley's children struggled to come to terms with the fact that their mother deliberately left them, only to later realise that she had been murdered.
Two of Lesley's closest friends, Margaret Topping and Shirley McPhilemy, spoke to me for the Spotlight programme to finally set the record straight about their friend after 20 years.
"The Lesley I knew was the epitome of good taste, both in her appearance and presentation and even the way she thought and spoke, she was lovely," Margaret said.
"When I read some of the things in the paper about her it was just so upsetting and I just wanted to let her children know that she was such a good person."
But the story does not end here, not for the murderers, or for their families.
We are, of course, still awaiting sentencing for Hazel Stewart but both Howell and Stewart's convictions raise serious questions about the initial investigation.
Unusual aspects
We now have to ask why two devoted parents whose partners were having an affair, but were not in a relationship themselves, would choose to enter into a bizarre suicide pact.
In the programme, we ask questions about highly unusual aspects of the suicide scene, and we look at the forensic investigations that were carried out at the time.
We have also asked a senior retired detective who specialises in crime scene investigation what he makes of the scene that detectives were dealing with in 1991 - his answers and reactions give us a real insight.
There are some questions that need to be answered. If it was a suicide pact, why was one body in the boot and one in the driver's seat?
While the Buchanans have nothing but praise for the current PSNI investigation, the family has now lodged a complaint with the police ombudsman about the way the original investigation was carried out.
They said they were not given even the slightest hint that there was any suspicion of foul play in 1991.
Gordon Buchanan said the family were never given any clue that it might not have been suicide.
"If we had the slightest notion there was any foul play we'd have been looking into it," he said.
"At the time we were completely devastated when we were told this terrible news.
"Our family had a long association with the police and we had a high respect for them.
"We were being told, by people we respected entirely, and had no reason to doubt, that this was a terrible, terrible tragedy."
Spotlight is on Thursday at 2235 GMT on BBC One Northern Ireland.