Boxing coach who punched ex-partner jailed for two years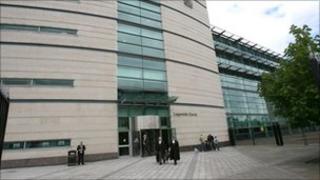 A boxing coach who admitted repeatedly punching his ex-partner was jailed for two years on Thursday.
The judge said Thomas Rocks, 43, had shown his ex-partner "no compassion".
He ordered that Rocks, from Maeve House on the New Lodge Road in north Belfast, spend six months in custody and 18 months on licence.
The judge also told Rocks, who has convictions for assaulting two previous partners, that there had to be a deterrent element to the sentence.
Earlier, prosecuting lawyer David McAllister told Belfast Crown Court that when Marcella Mervyn came home in the early hours of 13 August 2009, not long after her relationship with Rocks had ended, Rocks came "staggering" towards her, demanding to know if she had been with another man.
He told her he had been waiting for her for seven hours and shouted "I'm your boyfriend" at her as he punched her in the face.
'Cowardly and persistent'
Mr McAllister said when Ms Mervyn ran away Rocks had chased and caught her and then when she pleaded with him not to hit her again, "he said he would hit her and punched her on the left side of her face".
The lawyer added that, when she tried to get her mobile phone out of her bag to call the police, Rocks snatched it from her, breaking the shoulder strap as he hit her in the mouth and ran off, leaving Ms Mervyn with a swollen and bruised face and bruised arm.
After he was arrested Rocks denied the offences, but later pleaded guilty to two counts of causing actual bodily harm and causing criminal damage to the bag.
Solicitor Advocate Joe McVeigh said former boxing coach Rocks was an alcoholic and had been heavily intoxicated at the time of the offence, as shown by the fact that two empty vodka bottles were found in Ms Mervyn's garden.
He claimed that Rocks felt remorse for what happened, but added that "buttons were pressed in his mind, he was jealous and fired up on drink, but nevertheless, none of that excuses his behaviour".
In jailing Rocks, Judge Fowler told him he had "absolutely no justification" for the "cowardly and persistent attack" on his ex-partner who had done nothing but give him a home and encouragement to stay off alcohol.