Final budget agreed by Stormont Executive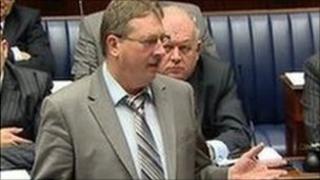 The Stormont Executive has agreed a final budget package which will be presented to a special session of the Assembly on Friday.
As expected, Ulster Unionist and SDLP ministers voted against the document.
It is understood an extra £120m has been allocated to health over the next four years, and £150m extra to education.
The Employment and Learning Department, which is responsible for higher education, is due to get an extra £50m.
However, £70m is being cut from the Social Development Department.
The Finance Department has said it has identified more than £450m in extra money to distribute to the Executive departments.
Finance Minister Sammy Wilson said that the new cash is available partly because the Land and Property Service has improved its efficiency in gathering the rates.
Senior Executive sources claim the new cash takes the total of additional revenue generated under the budget to more than £1bn.