First NI pensioners parliament is held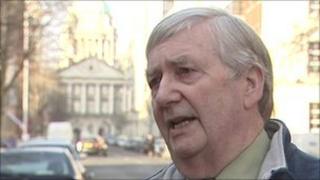 About 130 pensioners are due to take part in Northern Ireland's first ever Pensioners Parliament on Friday.
The meeting will take place in Belfast City Hall - with a local parliament in each county to follow during the next six weeks.
At each meeting older people will debate the issues that are of importance to them.
Bill Carson, Age Sector Platform Chairman, said it is important for pensioners to have their say.
"We need to have an even stronger voice to have an even more powerful influence on the decision makers, be they MP's, MLA's or councillors," Mr Carson said.
"We want older peoples input not just listened to but reacted to and hopefully that will mean better decisions are made."