Large gorse fire at Loughmacrory caused by arson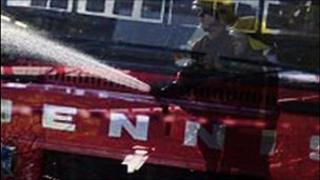 A large gorse fire put out by fire crews outside Omagh on Thursday night is believed to have been started deliberately.
At its height, the fire service said the blaze at Fingreen Road in Loughmacrory was the size of 40 football pitches.
Fire district commander Robbie Bryson said there appeared to be more than one starting point.
He said several areas had been left without the usual fire cover.
"We believe the fire was started deliberately because there was more than one place where it appeared to have started," he said.
"We had six appliances there - that meant we had very little cover in Omagh, in Fintona and in Strabane.
"That has obvious implications for other people in the community."