Man suspects Colin Howell over father's death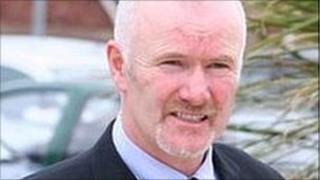 The brother of murder victim Lesley Howell has said he is suspicious about the death of his father.
Harry Clarke died just 11 days before his daughter Lesley and Trevor Buchanan were murdered by Colin Howell and his lover Hazel Stewart.
He had been staying with his daughter and son-in-law at the time. No post-mortem was carried out and cause of death was given as heart failure.
Chris Clarke said there was a "very real possibility" he had been murdered.
Colin Howell has always denied harming his father-in-law.
However, Mr Clarke told BBC NI's Spotlight programme he was not convinced by Howell's denials
"He was a man in late middle age, he had a sudden death - I'm well aware men in late middle age do have sudden deaths," he said.
"But when you look at the sequence of events in retrospect, he went from somebody in good health to dying very suddenly, very unexpectedly and I suppose you have to say at a very convenient time."
The bodies of Lesley Howell and Trevor Buchanan were discovered in a fume-filled car outside a house in Castlerock on 19 May 1991.
Former dentist Colin Howell, is serving 21 years after he pleaded guilty to the killings.
On Wednesday, his ex-lover Hazel Stewart was convicted of the double murder of her husband and her former lover's wife.
She will return to court next week when she will learn the minimum jail term she must serve.