Murdered neighbour was stabbed 11 times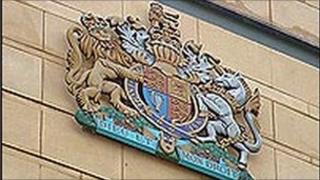 A man who stabbed a neighbour 11 times because he "could not let him live," has been jailed for life.
Troy McAuley, 38, of Herbert Avenue, Larne, admitted murdering Kenneth Raymond Nicholl in November 2008.
Antrim Crown Court sitting in Belfast heard that McAuley stabbed his victim because he had walked into his house "by mistake".
The judge told McAuley he would spend at least 10 years in jail before he is considered for release.
Mr Justice McLaughlin said there was no doubt that McAuley suffered from a mental disorder and mental disability which lowered his criminal responsibility, but not to such a degree to allow him a legal defence to murder.
'Stuck him'
The judge said it was clear that 29-year-old Mr Nicholl had been a "trespasser" in the house but that McAuley's actions in stabbing him was a "very significant over-reaction" in what might have initially been considered as an act of self-defence.
Mr Justice McLaughlin said McAuley was overheard telling a relative: "It was me - I stuck him."
McAuley then said Mr Nicholl had been kicking at his back gate.
McAuley said that as he came downstairs, Mr Nicholl had entered by the back door.
The defendant said he had hidden in the dining room before attacking his victim.
The court heard that Mr Nicholl was still alive but that McAuley "could not let him live" so he stabbed him again.
Having dumped his body in the alleyway, McAuley set about cleaning his blood-stained house, getting rid of blood-spattered clothing and burying the knife he used to kill him.
In mitigation the judge said McAuley had pleaded guilty, had a completely clear criminal record and the case itself contained elements of self-defence, provocation and diminished responsibility.