Armagh 'brucellosis incident' under investigation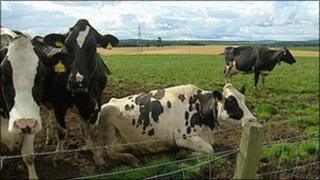 The Ulster Farmers' Union and Minister for Agriculture Michelle Gildernew have expressed their concern at an apparent attempt to deliberately infect a cattle herd in County Armagh with brucellosis.
A calf's leg was found in silage being used to feed a group of heifers.
DARD vets and the PSNI have launched an investigation into the incident.
As brucellosis is seen as a potential biological weapon, the incident is being treated "very seriously" by the PSNI according to the minister.
The carcass has been submitted to the Agri-Food and Biosciences Institute (AFBI) laboratory for DNA testing. The cattle which may have come into contact with the carcass, will also be tested for brucellosis.
DARD investigated a previous incident in Armagh at the end of 2009, when an infected foetus was deliberately placed in a field of cattle in an attempt to infect them.
UFU President John Thompson said he was "totally disgusted" by the news.
"For someone to do this shows a complete lack of respect for the decent, honest and hardworking farmers in Northern Ireland. It is the perfect example of where the actions of a tiny minority can threaten the efforts of the entire industry," he said.
'Attack'
"Northern Ireland has been working towards achieving brucellosis free status and we have made good progress towards this, with herd incidence figures in Northern Ireland extremely low in the past two years.
"If it turns out that the calf leg is infected with brucellosis, this has the potential to set the industry back years. The disease is extremely costly to farmers and the eradiation of the disease would bring great benefits to the whole industry."
Ms Gildernew said she was "appalled" by the find.
"There is no suggestion that the farmer who reported this incident is in any way implicated," she said.
"It was the farmer's prompt action that led to the discovery of the risk and the immediate investigation by my veterinary staff and the PSNI.
"There have been several incidents in Armagh in the last year that have led to local hot-spots of disease. This has cost the taxpayer and farmers millions of pounds. Any malicious attempt to spread disease is an attack on the whole of the farming community."
The Minister said the investigation would be pursued "as vigorously as possible". She also ordered a review of brucellosis control measures in the area, that is, cattle testing, herd and area restrictions and the removal of cattle for slaughter.