Fake monk Francesco Ferro sentenced to 14 months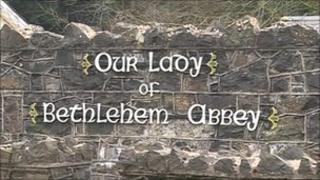 A man who pretended to be a monk and defrauded a monastery in Portglenone, County Antrim, has been sentenced to 14 months in jail.
Francesco Ferro, who is 27, pleaded guilty to nine counts of fraud and two of theft.
The court in Downpatrick heard he spent nearly £3,000 on the monastery's credit card.
Ferro used the card to buy plane tickets and a stay in a five-star hotel.
The Italian national, who was born in Romania, arrived at Our Lady of Bethlehem Abbey in Portglenone last May with a monastic habit in his suitcase.
Those at the monastery thought he was a Benedictine monk who was due to come for a stay and they did not carry out any formal checks to confirm he was who he said he was.
He had trained as a monk for four years in Rome, but never completed his training.
When he was at the abbey in Portglenone he took part in morning prayer and carried out monastic tasks - but as it was explained in court - he then saw an opportunity to take on a more fraudulent habit.
Over a period of around a month the 27-year-old - who speaks seven different languages - used the abbot's credit card without permission.
Five-star hotel
In total he spent just over £2,000, using some of the money to buy five flights - including one first class from Paris to Dublin - and a stay at a five-star hotel.
It was only after he broke into a room at the abbey and stole £500 in cash that the police got involved.
The judge told Ferro that he had exploited the goodwill of the holy order and abused their trust.
He said there was a degree of cleverness to what he had done. He told him he was a person of some charm and some skill which he was misusing.
Ferro left court in a prison van after being sentenced to 14 months in jail. However, he will not be behind bars for much longer because of the amount of time he has spent on remand.