Fine Gael and Labour have draft proposal for government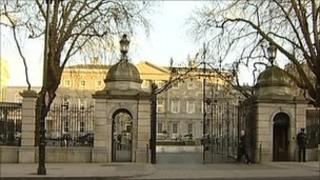 A senior politician involved in negotiations to form an Irish coalition government has told the state broadcaster RTE that the largest two parties have a draft of a proposed programme for government.
Fine Gael's Phil Hogan spoke as he arrived for Fine Gael and Labour talks.
The discussions resumed at Government Buildings in Dublin on Saturday.
Mr Hogan said the parties still had issues to resolve but he expected matters to be concluded later.
On Sunday the Labour party are planning on holding a special conference and Fine Gael hope to have a meeting of their parliamentary party.
Fine Gael finished as the largest party in the general election a week ago with 76 seats - seven short of an overall majority. Labour won 37 seats.
The newly elected Irish Parliament will meet for the first time on Wednesday.