Justin Bieber fever hits Ireland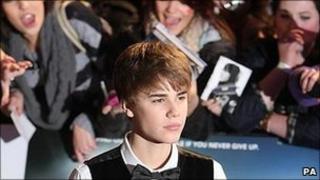 Justin Bieber fever has hit Ireland ahead of the teenage pop sensation's concerts in Dublin.
Hundreds of girls thronged the city's Grafton Street area on Monday night in the hope of catching a glimpse of him.
Some were reported to have run between shops screaming the Canadian musician's name.
And the teenager appeared to acknowledge their attentions, by posting on Twitter: "Relaxin in Dublin..Irish fans are no joke".
Bieber has 7.3 million followers on Twitter and more than 21 million friends on Facebook. His fans call themselves "Beliebers".
Fans in Northern Ireland have been campaigning on the internet over a number of months for a show in Belfast, but to no avail.
Bieber is due to play sold-out concerts at the O2 Arena in Dublin on Tuesday and Wednesday night.
Earlier this month, a lock of his hair sold for $40,668 (£25,024) in a charity sale on Ebay.