Templepatrick man Geoff Kerr shot 'defending family'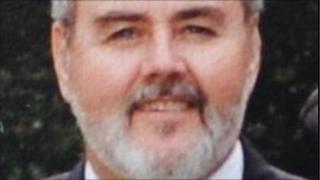 A man was shot through the heart as he tried to defend his family from two men who had forced their way into his home to steal guns, a court has heard.
Financial advisor Geoff Kerr was shot dead in Templepatrick on 27 April 2009.
Darren Kernohan, 35, from Moss Drive in Antrim and Martin Fleming, from Churchill Road in Larne, both deny murdering the 60-year-old.
On Monday, three other co-accused pleaded guilty to associated offences connected to the murder.
Tuesday's hearing at Belfast Crown Court was told by the prosecution that on entering Mr Kerr's home, the two accused pushed Sally Kerr against a wall with a gun to her head and immediately threatened her husband Geoff with the same weapon.
Prosecuting QC Ciaran Murphy said during the ensuing struggle with Mr Kerr, Kernohan fired two bullets at him, one passing through his chest and heart and out through his back.
He added that as he left the scene of the house, knowing that Mr Kerr lay injured "he turned to Mrs Kerr and pointed his gun directly at her".
He said that according to the Crown case, Mr Fleming was equally guilty of murder as a secondary party to the joint enterprise to rob Mr Kerr's numerous legally held firearms because "he would clearly have realised that there was every possibility that the gun in the possession of Kernohan would be used that night".
Kernohan has admitted assaulting Mrs Kerr, but Mr Fleming still denies that charge.
On Monday, mother and daughter Margaret Deery, 63, and Siobhan Clyde, 34, both from Willowtree Park in Newtownabbey, admitted charges of perverting the course of justice.
Laurence Desmond Kincaid, 60, from the Upper Hightown Road in north Belfast, pleaded guilty to withholding information.