Bangor coastguard staff meet with Mike Penning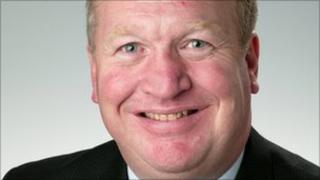 Shipping Minister Mike Penning has said his meeting with coastguard staff at the station in Bangor on Wednesday was "a breath of fresh air".
Mr Penning is to make a statement in the Commons later about consultation over the closure of 10 of the UK's 18 all-day coastguard stations.
Bangor is one of the stations under threat.
The minister said the staff he had talked to said: "'We know there has to be change and we've got some ideas'".
Mr Penning admitted Bangor was not originally included in the list of stations under threat, but was added later.
"It was a decision made by myself and the secretary of state and we were honest about that," he said.
"What did come up yesterday - and was breath of fresh air - is the acceptance of the people in the frontline that there has to be change and there has to be modernisation.
"They accepted there have to be closures, the debate is where those closures are."
He said no date had been set for a final decision on which stations would close.
"If I set a date that would mean I wasn't listening correctly to the amount of consultation," he said.
"I've had over 1,000 submissions so far from all around the country and there'll be more coming in."
The coastguard station in Bangor is responsible for initiating land air and sea searches, including inland waters, across the whole of Northern Ireland.