Sir Roger Casement sword and hat returned by Met Police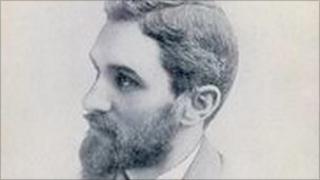 The Metropolitan Police in London have returned a sword and a hat which once belonged to one of the leaders of Ireland's 1916 Easter Rising.
The Irish Times reported that the items have been in police possession since Sir Roger Casement was captured bringing weapons for the rebellion to a beach in County Kerry.
The force's deputy commissioner John Yates presented the items to Pat Wallace, the director of the National Museum of Ireland, at a reception at the Irish embassy in London on Thursday.
The sword and the hat were worn by Sir Roger when he was knighted by King George V for his services to Amazonian Indians in Peru after he exposed their treatment in rubber plantations.
Casement was from an Ulster Protestant family and was educated at Ballymena Academy.
He was hanged for treason in Pentonville Prison in London in the summer of 1916.
Queen Elizabeth II is set to become the first British monarch since George V to visit Ireland.
Bobby McDonagh, the Irish ambassador to the UK, said her planned visit made Thursday's ceremony even more appropriate.
"In this historic year for Anglo-Irish relations, with her majesty having accepted an invitation to make a State visit to Ireland, it is fitting that these possessions of a distinguished Irish patriot, as well as an outstanding international campaigner for human rights, are coming home."