Banbridge soldier L/Cpl Stephen McKee tributes paid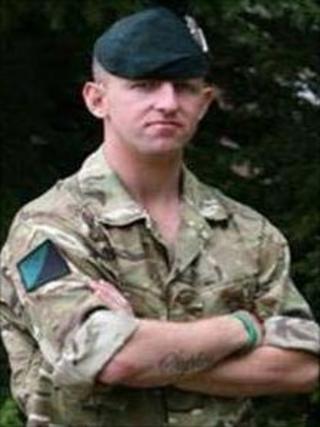 Tributes have been paid to a Royal Irish Regiment soldier from Banbridge who was killed in Afghanistan on Wednesday.
L/Cpl Stephen McKee, 27, was taking part in an operation in Helmand province when his vehicle struck a roadside bomb.
His wife Carley said he was a hero and the best husband anyone could have.
The Ministry of Defence said he was a "fine soldier, trustworthy and courageous".
Tributes have also been paid by NI First Minister Peter Robinson, Danny Kennedy MLA, who is a friend of the McKee family and the Orange Order, of which L/Cpl McKee was a member.
As well as his wife, he leaves behind parents Heather and Bobby, brothers Michael, Gareth and Robert and sisters Kelly and Rebecca.
His two-day-old daughter passed away last year.
The dead soldier's brothers, father-in-law and cousin have all served with the Royal Irish Regiment.
One brother is understood to have been involved in a similar attack in Afghanistan in recent weeks.
The MOD statement said L/Cpl McKee "always had time for everyone".
"He was a family man and showed enormous strength, particularly during a very difficult time last year when his two-day-old daughter passed away," it said.
His wife, Carley McKee, said: "You will always be my hero and every step I take in life, i will have my two angels looking after me.
"You truly are the best husband, father, son and brother anyone could ask for.
"Till we meet again. Love you always."
Mr Kennedy said the family's history of service was proud.
He added: "This tragedy, resulting from a cowardly attack by the Taliban, sadly mirrors the same fate which befell Stephen's uncle Richard, a member of the UDR, who was murdered by the IRA during the Troubles."
L/Cpl McKee joined 3rd Battalion, The Royal Irish Regiment as a part-time soldier in 2003.
When the Home Service were disbanded he decided to transfer to 1st Battalion, The Royal Irish Regiment and he joined them at Tern Hill in April 2007.
He was posted to B Company, where he served with distinction for three years before moving to the Machine Gun Platoon in D Company in 2010. He first deployed to Afghanistan on Operation Herrick 8 in March 2008.
Lt Col Colin Weir, commanding officer of 1st Battalion, The Royal Irish Regiment, said his death had "sent a wave of shock and sadness through this battlegroup".
He said: "Stephen McKee was the finest of men; he was irrepressible, he was utterly reliable and he was a fearsome warrior."