Kerr murder accused claims killing 'was accident'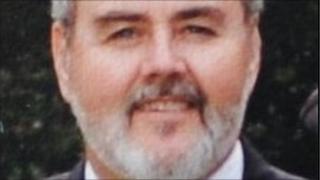 A man accused of murdering a firearms enthusiast has admitted the killing but said it was "an accident".
Darren Kernohan, 35, of Moss Drive, Antrim, denies murdering financial advisor Geoff Kerr at his home in Templepatrick in April 2009.
Martin Fleming, 51, of Churchill Road in Larne, last week pleaded guilty to the murder and was jailed for life.
Mr Kernohan said he hatched a plan with Fleming to break into Mr Kerr's home to steal whatever weaponry he had.
Giving evidence to Belfast Crown Court on his own behalf, Mr Kernohan told the jury: "I concede that I killed him but I didn't point the gun at him or intentionally try to kill him."
'Obviously shattered'
He claimed he thought the Glock handgun he had was a replica or blank-firing pistol and that when it went off twice, shooting 60-year-old Geoff Kerr once in the chest, it was by accident as he was "getting beaten about the head when it fired".
Asked by defence QC Barry McDonald what effect his involvement in the killing had on him, he told the court: "I'm obviously shattered by the fact that Mr Kerr lost his life - it's not something that I intended to do. It's hit me hard."
He revealed that he asked a friend in the Antrim UDA if he could borrow a replica or blank-firing pistol, on the understanding that once the incident was over, he would give the gun back along with one stolen from Mr Kerr.
The jury of nine men and three women have now heard all the evidence in the case and on Tuesday will hear closing submissions from prosecution and defence counsel as well as legal directions from trial judge Mr Justice Hart before retiring to consider their verdicts.