Lough Shore invests in Coleraine firm Geopii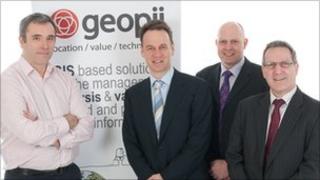 Private equity fund, Lough Shore Investments, has made what it says is a "significant investment" in Coleraine-based technology firm, Geopii.
Geopii, a spin-out company from the University of Ulster, was formerly known as Causeway Data Communications.
It makes software which aids management and assessment of land portfolios.
Lough Shore Invesments aims to invest millions of pounds in building up 10 businesses over the next 15 years with a view to stock market flotation.
It is run by entrepreneur Danny Moore.
Geopii is its second project. Last month, Lough Shore invested in Northern Irish wind energy firm Simple Power.
Mr Moore made the announcement at an "Ireland Day" summit at the New York Stock Exchange on Monday.
He said: "Geopii is one of the most innovative software firms in Northern Ireland and the New York Stock Exchange is home to some of the biggest corporates in the world, it's the ideal location to showcase Northern Irish talent.
"The key focus of today's summit is to rebuild the island of Ireland's reputation abroad and assist Irish businesses in leveraging US markets.
"It's about communicating to the 350 Fortune 500 executives here today that Northern Irish firms can compete at a global level and are open for business.
"It's the very reason we established Lough Shore Investments."