'Limbo' feature film starts shooting in Derry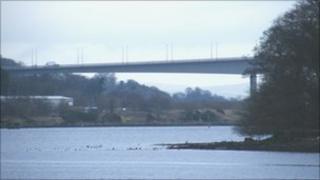 A feature film, called "Limbo" has begun filming in Londonderry on Tuesday.
The movie, which is set during New Year's Eve, involved council workers putting festive decorations back on the city's streets - in March.
Limbo also includes scenes set on the Foyle Bridge, which will close for several nights, to accomodate filming.
Much of the filming was done in Belfast, but producer, Brendan Byrne, said the council in Derry had gone out of their way to help.
"It's one of these kind of cool multi-story narratives," he said.
"It's like Crash meets Pulp Fiction somewhere in Northern Ireland with three stories which interlink, all set on New Year's Eve."
The writer, Lisa McGee, who is originally from Derry, has also written episodes of the television series, Raw, Being Human, and Totally Frank.
Producer, Brendan Byrne, said she wrote the story with Derry in mind.
"It has always been in her imagination that it's set here."
"Shipquay Street was one of a number of city centre streets used in the movie, he said.
"For all kinds of logistical reasons and availability of crew we have had to set most of it in Belfast but also Derry has got some fantastic streets like this.
"The council has gone out of their way to help us. We had to make it feel like it belonged somewhere so this is where is belongs."
The Mayor of Derry, Councillor Colum Eastwood said the council was happy to help.
"We are delighted that this movie is being shot in Derry.
"Not only is it great profile for the city, but it will create a great buzz in the city centre," he added.
"The film crew will be staying locally so it will give the local economy a boost."