Derry man admits swinging baby son by the leg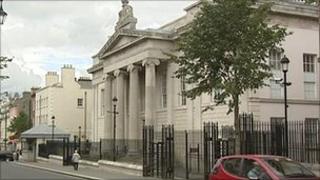 A 26-year-old Londonderry man has pleaded guilty to child cruelty against his son, who was then aged two months.
The defendant, whose name cannot be released for legal reasons, swung the baby back and forth by the left leg over a five minute period on October 26 2009 at the defendant's home.
Judge Piers Grant said he accepted it was a lower level case of child cruelty and that it was an isolated incident.
A date for sentencing will be fixed at Londonderry Crown Court on Monday.
A prosecution barrister said that immediately before the cruelty the baby was crying and whingeing and after the incident the baby squealed as if in pain and went back to sleep in his cot.
The barrister said that the baby's mother, who lived with him at the time, told the police that when she tried to intervene her partner pulled the baby away.
When she tried to phone the police the defendant took the phone from her, the barrister said.
She told the police that the incident was followed by a twenty minute long argument between her and the defendant and that after the incident she left her partner and moved in with her mother.
The matter was brought to the attention of the police in February 2010.
During his police interview the defendant said he had mentioned the incident to friends and work colleagues and discussed it in the context of his difficult relationship with his then partner.
Judge Piers Grant was also told that a probation service report stated that the defendant did not present a risk of serious harm and that there were no lasting effects arising from the incident.
Defence barrister, Martin Rodgers, said the defendant was a person of limited cognitive ability and that there was no history of domestic violence prior to this incident.
He said he was a young man who was immature in terms of his responsibilities to his baby.
"In a moment of madness in his anger to the child's mother he momentarily exposed the child to a risk of injury," he said.
Judge Piers Grant said he accepted that it was a lower level case of child cruelty and that it was an isolated incident. He said there was no evidence before the court to suggest that the defendant was not a loving carer.
The issue of access for the father to his baby son is being dealt with at the Family Court later this week.
Judge Grant released the defendant on continuing bail until Monday when a date for his sentencing will be fixed.