Hazel Stewart to find out murder minimum term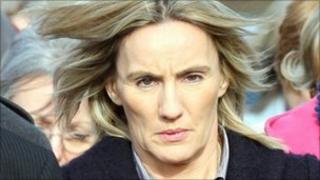 Hazel Stewart will be told later how long she will spend behind bars for the murders of her first husband and former lover's wife.
Mrs Stewart, 49, was convicted earlier this month of the murders of Leslie Howell and Trevor Buchanan.
She was sentenced to life in prison and will be told the minimum time she must serve.
Her former lover Colin Howell pleaded guilty to the double murder last year and is serving a life sentence.
The bodies of Mr Buchanan and Mrs Howell were discovered in a fume-filled car in Castlerock in May 1991.
At the time it was thought to have been a double suicide - the truth only emerged when Colin Howell confessed to their murder in January 2009.
Stewart's trial heard that Stewart played a part in the planning of the killings.
She also disposed of evidence including the hose pipe used to gas their spouses.