School meals 'could be improved' - auditor general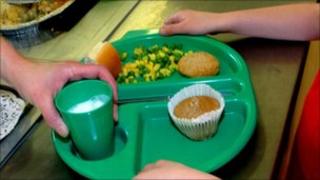 More could be done to improve school meals in Northern Ireland, the auditor general has said.
Kieran Donnelly is presenting his report on nutrition in schools to the Assembly on Wednesday.
He also found that nearly a quarter of pupils did not take the free meals they are entitled to.
The report calls for stronger sanctions against schools which consistently fail to raise the nutritional standards of their meals.
Mr Donelly said: "A balanced diet is essential for children and young people if they are going to develop and grow into healthy adults.
"School provides an ideal opportunity to convey positive messages about healthy eating.
"In this regard, therefore, I commend the hard work of school employing authorities and school catering staff in bringing about significant improvements in the quality and nutritional value of school meals," he added.
"However, whilst considerable steps have been taken, further improvements must be made to ensure that all schools comply with the compulsory nutritional standards and that children are encouraged to make healthy eating choices."
Healthy eating
In his report Mr Donnelly also found that school meals were more expensive than in Scotland and England.
The report also noted the challenge schools had to persuade pupils who are on free or paid meals to take advantage of them instead of fast food outlets near the schools.
"During one school visit a kitchen supervisor expressed her frustration at the lunchtime deliveries regularly made by local bakeries and chip shops to the school gates."
Mr Donnelly also said principals, teaching staff and governors also played a key role in promoting a healthy eating ethos.
The report found that most schools have relevant policies in place to guide and support the development of whole school healthy eating programmes.
However, it found there was a need for more consistent and effective monitoring of these to keep targets and priorities relevant and up to date.